Visitor Information

Due to the government's necessary restrictions on the spread of the coronavirus, Marksburg Castle will remain closed at least until further notice.
We hope that the measures will be successful.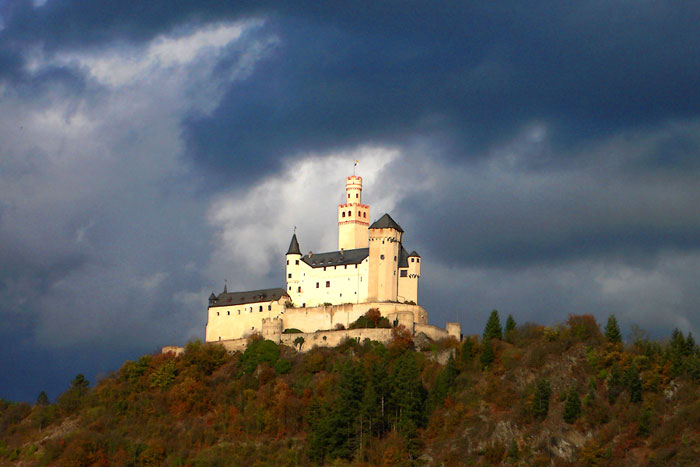 Following the national lockdown, summer season opening times will apply to guided tours: first tour starting at 10am, the final tour at 5pm; at irregular intervals. Please visit this website for updated information!
Due to the necessary restrictions on account of the coronavirus pandemic, guided tours will only be starting in small groups.
It is not possible to book a tour in advance.
Please understand that there may also be waiting times during the holidays and at the weekends.

We would like to ask our visitors to take the following rules, on which we place great importance to protect you and our staff, seriously so as to minimise the risk of infection.

Adhere to the compulsory use of face masks throughout the castle
Keep a minimum distance of 1.5 metres
Follow standard hygiene measures
Refrain from a castle visit if you are feeling unwell or have been in contact with somebody suspected to be infected
It is not only Marksburg Castle itself that relies on the revenues from tickets and the castle museum shop to carry out restoration and renovation work, but its owner, the non-profit heritage foundation Deutsche Burgenvereinigung e.V. (German Castles Association) as well, as it finances its various acitivies through this resource, which is by far the organisation's most important one. The work and activies of the DBV, which counts 3000 members throughout Germany and which runs the European Castles Institute, are at risk due to the ongoing significantly reduced revenues. We would be happy to welcome as many visitors as possible on our wonderful castle to offset some of the expenses.
The Marksburg is open every day.

The castle only can be visited in the course of a guided tour taking about 50 minutes.
Visitors will be shown around the castle museum by guides who recount the history of the medieval stronghold and give an impression of what life was castles during the Middle Ages.
Individual international visitors are able to join the regular guided tour with a leaflet in their own language.
Regular guided tours in English for individual visitors start every day at 1 o'clock (only during the summer season).
(Please note that this schedule is subject to change on short notice).
Concerning guided tours in English at other times of the day, please call our visitor service: +49-2627-206 as you might be able to join a pre-booked English-speaking group.

Opening Times:
Maybe from April 2021 to 1st November 2021 (summer season):
10am to 5pm (last admission at 5 pm, guided tours usually start every 15 to 20 minutes, English guided tours at 1pm and 4pm, only in the summer season)
Maybe from November 2021 to March 2022 (winter season):
11am to 4pm (last admission, guided tours every hour on the hour).
The castle is only closed on 24th and 25th December.


We regret that due to the challenging original medieval terrain, the castle is not accessible by wheelchair. People with other physical disabilities may struggle with the uphill climb during the tour. Please contact our visitor service if you have any concerns regarding your planned visit.

Pushchairs and baby carriages can be parked at the beginning of the guided tour behind a locked gate if the children can be carried or are able to walk on their own.
Dogs are welcome to join the guided tour as long as they are well-behaved.
Please consider that eating, drinking and smoking are prohibited during the guided tour.
For the safety of guests as well as birds of prey and other wild animals, remote control aerial cameras (drones) are prohibited on the castle grounds and around the castle.
At your arrival you will find a spacious parking site (with an attendant in the summer saison) close to the castle.
Contact:

Prices 2021 incl. guided tour

Adults
8,00 €


Students
7,00 €


Schoolchildren

6,00 €


Children under 6
free


Families
(2 adults and 2 or more children)
19,00 €


Families 1
(1 adult and 2 or more children)
12,00 €
.
Members Deutsche Burgenvereinigung
free
* Prices does not apply to tours outside of normal opening hours.

Tickets can be bought at the ticket desk inside the gift shop.
The shop is open daily during opening hours. It offers a great selection of literature for all ages as well as regional guide books, a selection of post cards, posters, high quality gifts, stationary and souvenirs, and a wide range of gifts for children.

If you are looking for a bite to eat before entering the castle, the cafeteria restaurant Marksburgschänke is situated next to the gift shop with a panorama terrace overlooking the Rhine valley. You will also find a picnic terrace for self-prepared lunches right next to the castle.
Download: Flyer Marksburg