Directions

Getting to Marksburg Castle
By car:
From B 42, in the direction of Rüdesheim or Koblenz, use the exit to Braubach and follow the signs to "Marksburg".

You will find a spacious parking site (with an attendant in the summer season) close to the castle.
From here, it will take you no more than a short uphill walk of about five minutes to reach the castle.
Parking Fees (attended parking)
Cars 3.00 €
Caravans 5.00 €
Motorbike 2.00 €
Coaches 5.00 €
By Train:
The nearest major train station is Koblenz from where there are regional trains and public buses going to Braubach station (10 mins by train, 30 mins by bus). After leaving the station and crossing the road into the old town centre, follow an uphill hiking trail through the forest towards the castle (about 30 minutes).
By Boat:
From the Braubach quay, the uphill walk to the castle following the hiking trail through the forest will take about 30-40 minutes.


Marksburgbahn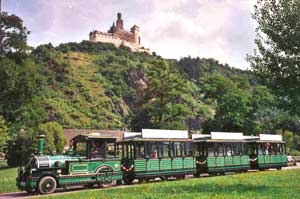 On enquiry, a small privately run train shuttle service makes its way through the Old Town of Braubach up to the castle during the summer season (seats available for up to 50 persons).
If required please contact:
Ruckes
Im Sanderweg 4,
56341 Filsen
Tel.: +49-(0)6773-587, Fax 7490
Round-trip ticket: adults 5,00 €, kids up to 12 years 4,00 €
Single-trip ticket adults 3,00 €, kids up to 12 years 3,00 €
Round-trip ticket: Family (2 adults, 2 kids) 16,00 €
The Marksburgbahn has no fixed departure times. With a minimum turnover of 35 €, you are welcome to book the train at the desired time.